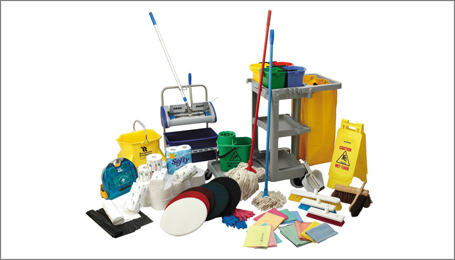 We understand that one of the most important parts of running and operating a company is keeping it clean. While we specialize in custom designed packaging and packaging materials, we realize that packaging and shipping don't cover everything in a company. Our goal is to make sure that businesses, industries, and corporations have all the materials they need in bulk from one source in order to be as successful,clean, and efficient as possible.
That's why, in addition to packaging materials and products, we carry and distribute janitorial products to your Montgomery County, PA, or Bucks County, PA, business. We pride ourselves on being a trustworthy janitorial supply company because we have almost four decades of experience in carrying and distributing items in bulk to improve the quality of companies. Whether you need packaging materials or janitorial products, let Markey Paper and Packaging be your destination.
Since we have such a rich background in distributing paper products, it makes it simple for us to know what paper products and other janitorial products you need to make your company thrive. We carry paper supplies, food service supplies, other janitorial and cleaning products, and more.
We carry a variety of towels, tissues, wipers, and other cleaning materials in bulk. As experts in the paper industry, we know which specific products are needed to clean particular items or spaces. We handle paper every day in our packaging services and have maintained a thorough knowledge of different paper products since our company's creation in 1973.
Instead of buying plain paper towels and other cleaning and janitorial products from your local convenience store or other distributor, let the professionals at Montgomery County's Markey Paper and Packaging select superior paper products for your particular business or project. We only carry the best brands and selections of towels, tissues, and other cleaning materials that are sure to provide leading janitorial service for your business.
Some of the janitorial products that we distribute include roll towels, c-fold towels, multi-fold towels, center-pull towels, standard and jumbo roll toilet tissues, facial tissues, industrial poly bags, industrial can liners, flat bags, gusseted bags, reclosable bags, and conventional liners.
Our janitorial supply company distributes many varieties of janitorial products that other suppliers simply do not carry. Stores typically only sell one or two types of towels, can liners, and other janitorial products. At Markey Paper and Packaging, we sell a wide selection of these products so you can be sure you are purchasing the perfect janitorial products that specifically fit your business and your needs.
Additionally, other suppliers don't carry large amounts of the janitorial products you need. We are constantly stocked with our janitorial products and are ready to distribute the best products to outfit your company. Our janitorial products are also very affordable, so you can be sure that you are purchasing the best supplies for your business while still making a strong choice economically.
Let Markey's Paper and Packaging be your choice for custom packaging, packaging products, and janitorial products in Bucks County PA. Our janitorial supply company promises the best quality, the best prices, and the widest selection for all of your janitorial supply needs.
Towels and Wipers
Roll Towels
C-Fold Towels
Multi-fold Towels
Center-Pull Towels
Tissue and Wipers
Standard and Jumbo Roll Toilet Tissue
Facial Tissues
Industrial Wipers (Poly Bags and Can Liners)
Flat Bags
Gussetted Bags
Reclosable (Zip-lock) Bags
Hi-density Can Liners
Conventional Liners