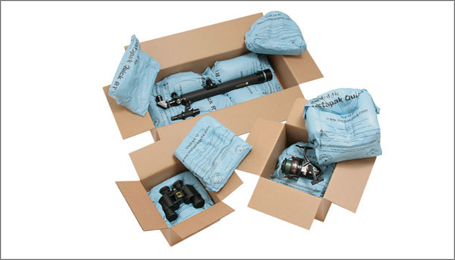 Markey Paper and Packaging goes above and beyond to guarantee satisfaction for our Bucks County, PA, and Montgomery County, PA, customers. We provide packaging materials, custom designed packaging, janitorial products, and more, and promise our customers in the Lehigh County PA area and beyond that they can trust us with any and all of their packing and shipping needs. That's why we proudly carry and distribute Sealed Air Instapak® Foam-in-Place packaging systems.
How Does Instapak Work?
Instapak foam safely protects items that have to be packed and shipped inside of a box. Instead of packing a box with thousands of packing peanuts, you can pack your boxes with the effective Instapak foam instead and trust that your items will be safe.
Sealed Air Instapak allows whoever is packing their items to customize the size and shape of the Instapak foam. If efficiently fits around all items and is easily formed in whatever way it needs to be moved. This packing material is extremely versatile and can practically fit around any item and packs it safely.
Instapak foam is very easy to use, whether you're a packing expert or not. It is not only easily customized, but the setup time is very quick. You won't have to worry about spending an extensive amount of time on packaging your items. Because of its efficiency, Sealed Air Instapak is very simple to use and customize.
Instapak foam is originally packed in a tightly sealed package. It originates as a very small product, but it quickly expands to form around any item that you need to pack. The easy expansion makes it even more customizable for the items you need to pack. It also comes with interior packaging to ensure even more safety.
If you need to pack away items effectively from your Bucks County, PA, home or business but don't want to pay expensive costs, Instapak foam can be priced to fit your specific budget. We will work with you to meet all of your financial needs.
We also carry a unique variety of Instapak foam, the Instapak Quick. The Instapak Quick comes in a variety of sizes including 15×18", 18×18", 18×24", and 20×30" to fit all of your packing needs and requirements.
Markey Paper and Packaging proudly distributes Instapak foam and other unique products such as poly strapping kits in Montgomery County, PA, and Lehigh County, PA. Let us handle all of your packaging needs! We can send you items to make packaging a much less stressful experience, and can even create custom packaging to guarantee that your items will be packaged properly and ready for sending. Be sure to check out our Instapak foam, Instapak Quick, and other items that can make your packing experience safer, quicker, and more efficient.
Easy to Use
Minimal Setup Time
Anyone Can Utilize – No Special Skills or Training Needed.
Versatile
Protects Products of Virtually Any Size and Shape.
Fast
Expands in Seconds to Form Custom Fit Protective Packaging.
Customer Satisfaction
Product Arrives Safely in a Neat Protective Package.
Hand Hold Cutouts
Interior Packaging
Cost Effective
Priced to Fit Your Budget.
Instapak® Quick
Available in the following sizes:
Instapak® Quick RT
Available in the following sizes:
Sealed Air Simple
Foam in Bag Packaging
2.5 Gallon System
Perfect For Smaller Volume Users
Save
Save